Dr. Ben Cilento is a board certified ENT, sleep and sinus surgeon and board certified facial plastic surgeon in Houston, Texas. He practices compassionate and comprehensive patient care at all three of his facilities: Texas Sinus & Snoring, Cilento Facial Plastics, and Butterfly Medspa & Wellness. Recently he has also opened Get Physical Rx, a Balance and Physical Therapy Center.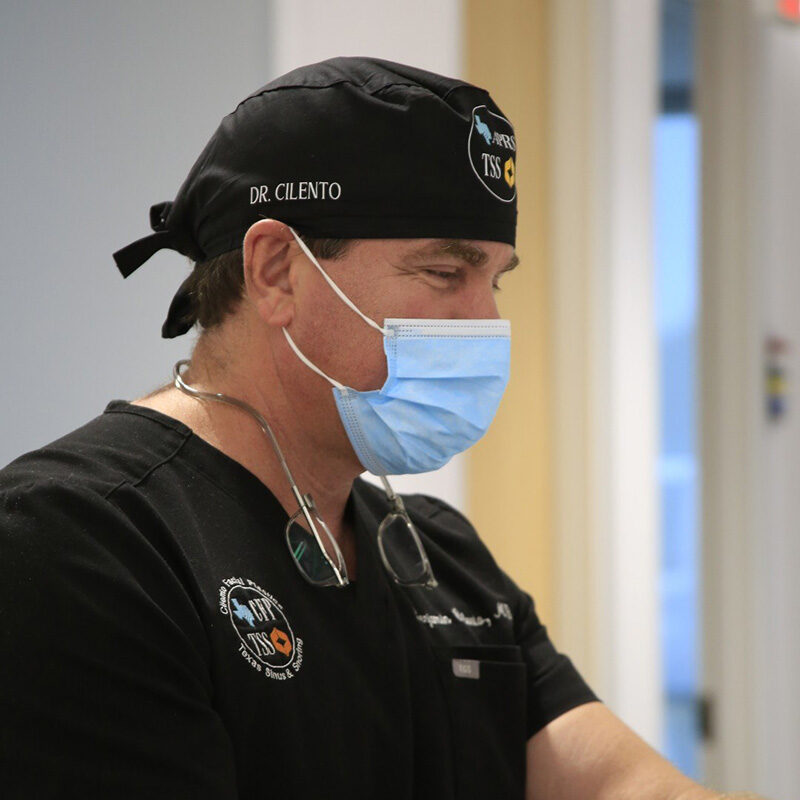 A Message From Dr. Ben Cilento
ENT | SINUS SURGEON | SLEEP SURGEON | FACIAL PLASTIC SURGEON
"Throughout my life and my career, I have come to realize certain truths. The first is quality is not an accident, it is a process. The second is that "process" is not static, it requires constant diligence and attention to detail. At my practices, we come to work every day with the intention of providing the highest quality care with the most compassionate approach possible. We bring the latest technology together in one office to help examine, diagnose, and treat your problem quickly and efficiently to minimize the impact on your work and family life. This positive approach to healthcare means efficiency doesn't feel rushed. My hope is that when you see our logos, you relax because you know quality AND compassion are on the way."

- Dr. Ben Cilento
David Hall
July 20, 2022.
Dr. Cilento sets the standard for medical care. I highly recommend him. Great doctor! Great staff!
Lisa Stout
January 27, 2022.
Went in after having recurring sinus problems for years, experiencing vertigo and recurring headaches. Dr. Cilento did a CT scan and found nasal area was fully inflamed plus I had a crooked septum and other problems. After being on a allergy regimen, the headaches have almost gone away. After recovering from sinus surgery, I had allergy testing and started allergy shots. Allergy nurse needs to fully explain everything about treatment.They do not tell patients they can come in more than once a week. Only way you find out things is sitting with other allergy shots patients and talking. Hard to get answers to questions. Depending on who you ask, you might get a different answer. Billing person does not return phone calls. Front desk ladies are so nice and courteous.
Debbie Keizer
November 2, 2021.
Excellent doctor but the staff came directly from Heaven! Thank you all.
Gabriela Lopezl
July 20, 2021.
Great experience. Everyone was very professional and friendly. Dr. Cilento is so nice and thorough. Kaitlyn is super knowledgeable and efficient. There was hardly a wait time and I left feeling like finally, I'm getting something done with my sinuses instead of just being prescribed allergy meds.
duane morris
July 19, 2021.
Awesome as always, got a same day appointment, got prescriptions and my way to recovery.
David Frey
July 17, 2021.
Awesome people who take pride in their work. Very good experience!
Dave Schaumann
July 16, 2021.
My experience at Texas Sinus and Snoring was top notch. Dr. Cilento and his team work together like a well-oiled machine. I was seen promptly, and Dr C. provided some very helpful information about Sleep Apnea up front. I was amazed that a CAT scan was done as part of my assessment right in TSS. Dr C. developed a plan to treat my Sleep Apnea including a medication and nasal rinse regimen including detailed verbal and written instructions; both were very thorough. I look forward to my follow-up appt and planned procedures. My goal in seeing Dr. C was to see if I could free myself of my CPAP machine or at least tolerate it better. I am confident that I will get the best results possible at TSS. I had a second opinion with another provider the same day as my initial consultation w/ TSS. While my second opinion was good and gave me peace of mind, going with TSS was an obvious choice based on the above.